| | |
| --- | --- |
| | ATO-0045 Technical Details |
Short curve-neck design automatic tap with side override sensor and temperature control
Features
Technical Details
Dimension
Contents
Functions
Temperature Control
Add-ons
Features
Front-facing dual infrared sensor eyes (ON and OFF)
Manual ON/OFF override 'touch' button
Solid construction 'curve-neck' design sensor tap
Doudle supply (Hot and Cold supplies)
Temperature control lever
Mains/4XAA Alkaline batteries (up-to 2yr lifespan)
Hands free infrared activation
Exquisite curve-style design
Finish: Chrome-plated
Flexible supply hoses supplied

Special Notes:Water pressure:
Water pressure range: 0.75 (Min) - 7 Bar (Max) (1 bar or above for best performance)
Video Demo:
Watch a video demo here
QUICK VISUAL DATA
| | | | |
| --- | --- | --- | --- |
| | | |   |
| This sensor tap can be powered by both Mains (AC) and Batteries (DC) | This sensor tap comes with double (hot and cold) water supply feeds | 30-35mm | The control box for this sensor tap has a separate 'plug-in' transformer |

TECHNICAL DETAILS
Diameter of 'inlet' pipe: G1/2"
Diameter of 'outlet' pipe: G1/2"
Water pressure range: 0.75 (Min) - 7 Bar (Max)
Sensing distance: 6-27cm
Environment Temperature: 1-45 C
Flow Rate: 6L/Per minute
Max. Hot-water Temperature: 70C
Power consumption: =0.3mW
Respond time: 1 Second
Battery Power Consumption: 4x AA alkaline batteries (up-to 2-year lifespan depending on level of usage)
Silent Consumption: 0.003mW
Environment Temperature: 1-45 C
Pipe Threading: British Standard Whitworth (BSW) 
Noise Class: 1
Finish: Chrome-plated
Voltage: DC6V or AC220V-240V (6V Output)
Power Options

DC = Direct Current (Battery source)
AC = Alternate Current (Mains electricity supply)

DC only: The tap can run off batteries only (4 x AA batteries)
We recommend using alkaline batteries, which should be new and of the same brand.

AC only: The tap can run off Mains power supply only.
A 'step-down' transformer is supplied, type AC220V-240V (with 6V Output)

AC + DC: The tap can run off both AC (Mains) + DC (Batteries) connected at the same time.
This means, AC (Mains supply) will run the tap as normal, while the DC (batteries) ramains dormant, and acts as a backup power should the AC power fails.
TIP:
It's entirely up to you to decide which power option/combination suits your installation/usage the best.
The integrity of the tap stays the same.

DIMENSION: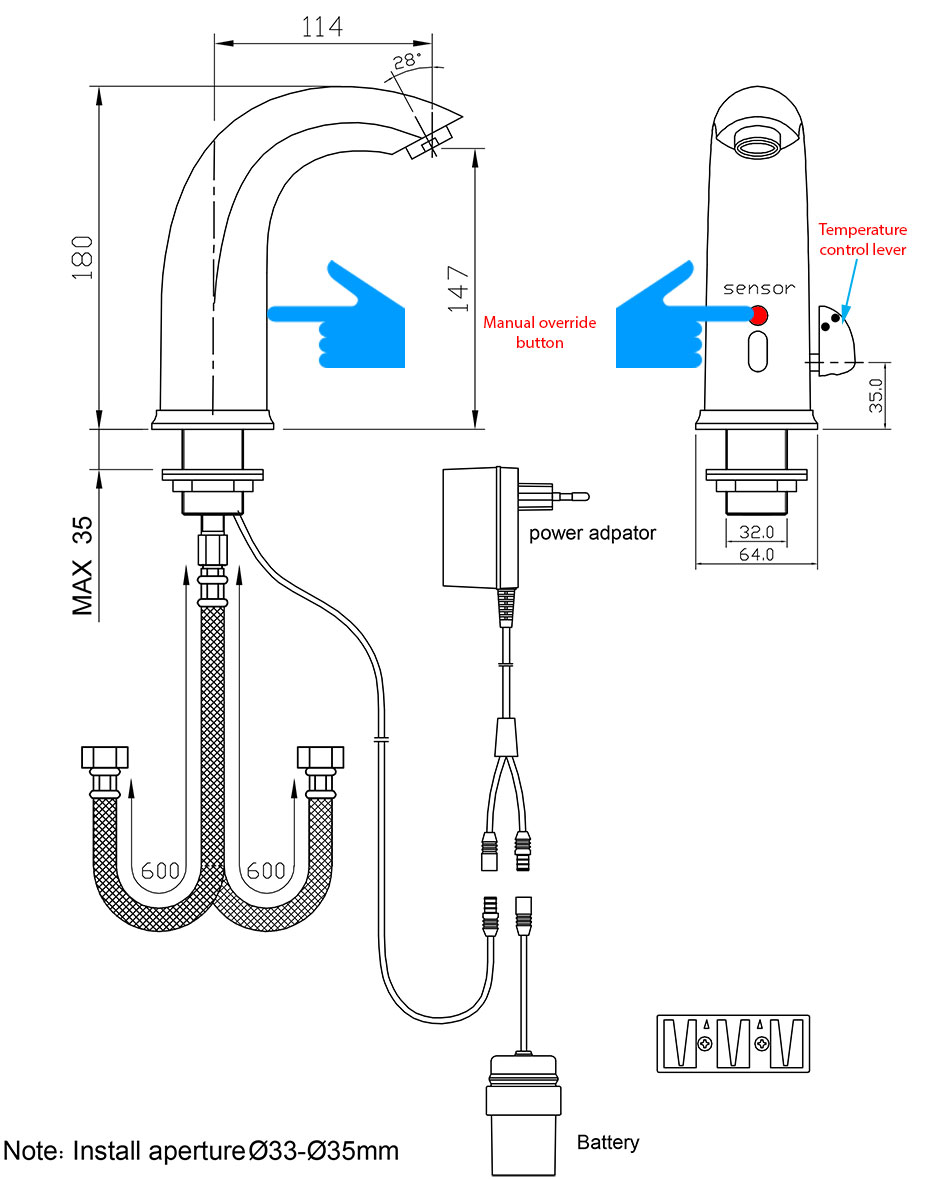 CONTENTS
1x Sensor Tap
4x AA Alkaline Batteries (Subject to availability)
2x Flexible G1/2" *600mm 'hot & cold' Connection Hoses
1x Transformer
1x Battery box
Fittings and Screws

ON/OFF Override 'touch' Button
Dual SENSOR override button
Video Demo:
Watch a video demo here