Water-saving
Flow Regulators
WATER SAVING AERATED AND NON-AERATED 'LAMINAR' FLOW REGULATORS
Aerators – Key component of every tap
Aerators are found in nearly all kitchen and lavatory taps. An aerator is a key component in the overall performance of the tap. Here is how you should expect your aerator to perform:
Control the stream straightness and diameter
Reduce splash by aerating the stream and eliminating side spray
Save water and reduce energy costs
Meet local pluming codes and standards
Aerator with the pressure compensating flow regulator
With standard aerators the flow rate goes up as the pressure increases. The pressure compensating flow regulator produces – by means of an o-ring, a constant flow rate regardless of pressure fluctuations. In certain markets and applications it is preferable to select the NEOPERL PCA technology. The fields of application include:
Standards with defining the maximum flow rate
Water conservation
Plumbing systems where an even distribution of water between various point of use is needed
TYPES OF WATER FLOW
Aerated Stream
Aerators introduce air into the water stream to produce a larger and whiter streamer soft to the touch and non-splashing. Aerators are the usually choice for residential faucet applications.
Laminar Stream
Laminar stream straighteners produce a non-aerated water stream. Ideal for high flow applications or health care facilities (no mix water/air) NEOPERL laminar spout-end devices deliver a crystal clear and non plashing stream.
Spray
When the flow rate is too low to produce an aerated or laminar stream, a spray device is used to produce a miniature shower pattern to provide full coverage of the hands during washing. Sprays are recommended for use in public lavatories.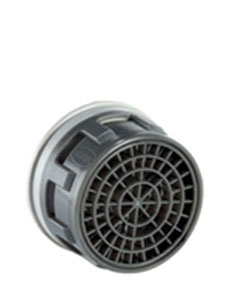 CAS-001
Water Saving Flow Regulator
Superior lime protection
Standard size: M24
5 Litres/minute flow (1.32 Gallon *US)
Extended life
Perfect stream quality even under difficult flow conditions
Very low noise level
Damage proof: unlike conventional wire mesh screens, the CASCADE structure can not be crushed
Integrated anti-clogging dome screen filters sediments and particles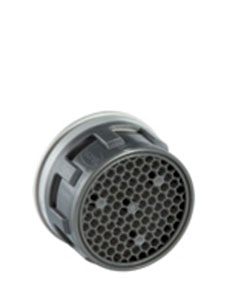 HAS-304
Honeycomb design flow regulator aerator
Improved lime protection integrated HONEYCOMB structure replaces conventional wire mesh screens prone to lime build-up
Standard size: M24
5 Litres/minute flow (1.32 Gallon *US)
Extended life
Perfect stream quality even under difficult flow conditions
Very low noise level
Damage proof: unlike conventional wire mesh screens, HONEYCOMB structure can not be crushed
Integrated anti-clogging dome screen filters sediments and particles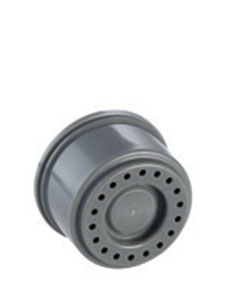 NSS-304
Honeycomb design flow regulator aerator
Good water dispersion at low flow rates
Recommended for application in series laboratory faucets (public bathrooms exposed to walk-on traffic)
Pressure compensating for constant flow from 0.8 to 6 bar
Supplies all outlets evenly with water
Provides a non-splashing, non aerated spray
Integrated anti-clogging dome screen filters sediments and particles
Virtually unbreakable single piece insert ensures a longer useable life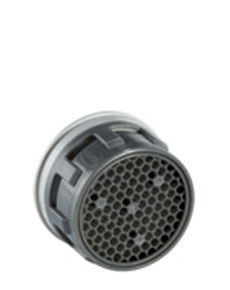 LSH-304
Honeycomb design 'laminar' flow regulator
Crystal clear , non-splashing water stream
Standard size: M24
5 Litres/minute flow (1.32 Gallon *US)
Highly suitable and recommended for Hospitals and Health Care Centres
Improved lime protection: integrated HONEYCOMB structure replaces conventional wire mesh screens prone to lime build-up
Extended life
Perfect stream quality even under difficult flow conditions
Damage proof: unlike conventional wire mesh screens, the HONEYCOMB structure can not be crushed
Integrated anti-clogging dome screen filters sediments and particles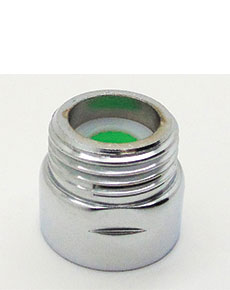 IOC-201
Female connection flow regulator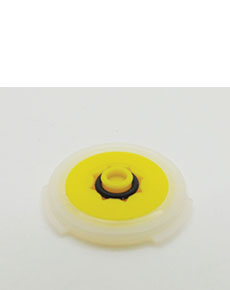 FFR-052
Flat Flow Regulator