| | |
| --- | --- |
| | ATX-8204 Technical Details |
Tall swan neck design deck-mounted automatic sensor tap
Features
Technical Details
Dimension
Contents
Functions
Temperature Control
Add-ons
Features
Goose-neck design sensor tap
Integrated 'hidden' spout sensor eye
Intelligent 'auto-adjust' sensor distance
Fixed or Swivel neck (180 degree)
Hygienic and upto 70% water conservation
Powe Options: AC+DC Powered: Mains/4XAA Alkaline batteries (Up-to 2yr lifespan)
Hands free and reliable infrared activation technology
Integrated manual 'on' and 'off' control
Exquisite and stylish designs
Solid brass construction
Flexible supply hoses

Special Notes:Water pressure:
Water pressure range: 0.50 (Min) - 7 Bar (Max) (1 bar or above for best performance)
QUICK VISUAL DATA
| | | | |
| --- | --- | --- | --- |
| | | |   |
| This sensor tap can be powered by both Mains (AC) and Batteries (DC) | This sensor tap comes with a single water supply feed | 30-35mm | Control box for this sensor tap is supplied with detachable UK 'fused' plug |

TECHNICAL DETAILS
Control box: Diameter of 'inlet' pipe: G1/2"
Control box: Diameter of 'outlet' pipe: G1/2"
Water pressure range: 0.75 (Min) - 7 Bar (Max)
Voltage: DC6V or AC220V-240V (6V Output)
Power consumption: =0.3mW
Sensing distance: 6-24cm
Respond time: 1 Second
Battery Consumption (DC): 4xAA alkaline batteries (up-to 2yr lifespan depending on level of usage)
Silent Consumption: 0.003mW
Environment Temperature: 1-45 C
Flow Rate: 6L/Per minute
Pipe Threading: British Standard Whitworth (BSW)
Noise Class: 1
Finish: Chrome-plated
Voltage: DC6V or AC220V-240V (6V Output)
Power Options

DC = Direct Current (Battery source)
AC = Alternate Current (Mains electricity supply)

DC only: The tap can run off batteries only (4 x AA batteries)
We recommend using alkaline batteries, which should be new and of the same brand.

AC only: The tap can run off Mains power supply only.
A 'step-down' transformer is supplied, type AC220V-240V (with 6V Output)

AC + DC: The tap can run off both AC (Mains) + DC (Batteries) connected at the same time.
This means, AC (Mains supply) will run the tap as normal, while the DC (batteries) ramains dormant, and acts as a backup power should the AC power fails.
TIP:
It's entirely up to you to decide which power option/combination suits your installation/usage the best.
The integrity of the tap stays the same.

DIMENSION: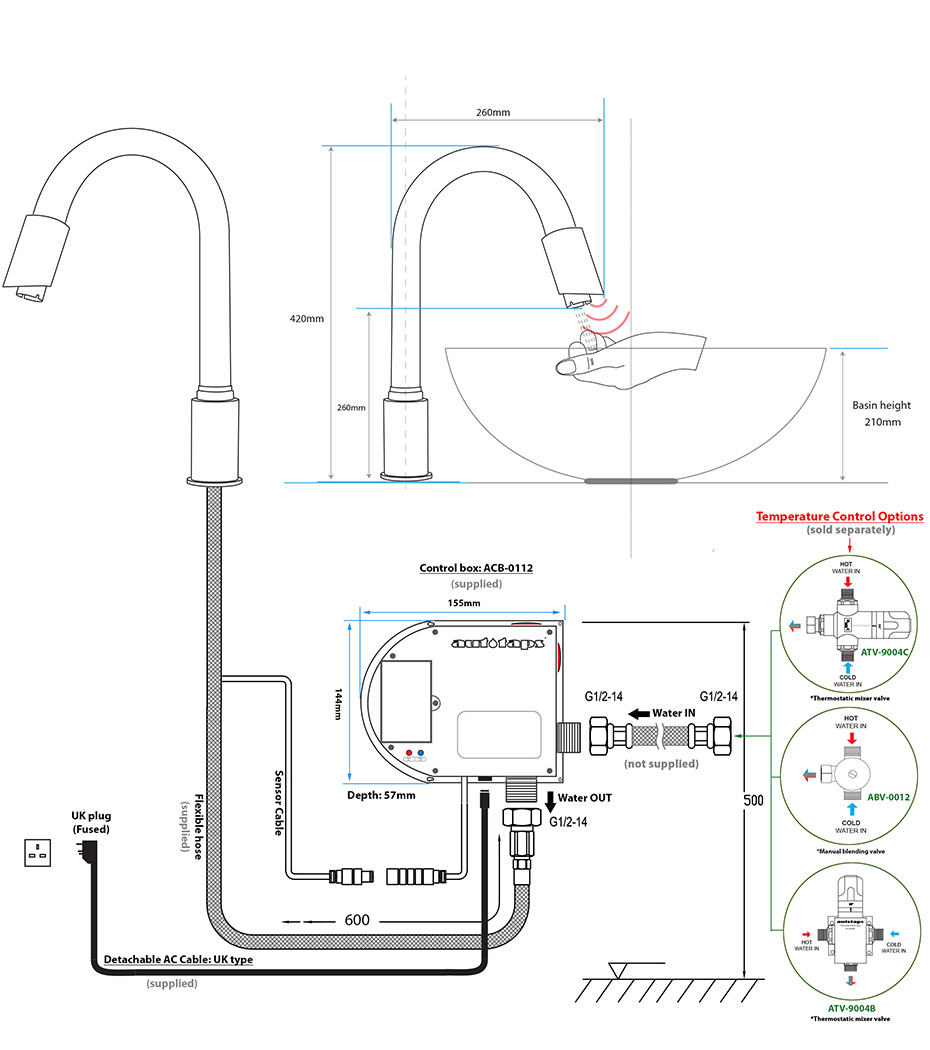 CONTENTS
1x Sensor Tap
1x Control Box ***with 3-Pin plug (*battery compartment inside)
1x Flexible G1/2" *600mm Connection Hose
1x Transformer (*locaated inside control box)
Fittings and Screws

Water pressure:
Water pressure range: 0.7 (Min) - 8 Bar (Max) (1 bar or above for best performance)
Temperature control:
This sensor tap is designed to be supplied with pre-mixed water.
Consideration should be given to safe hot water delivery and the use of an appropriate temperature reduction device.
See images below.
Manual blending valve:
ABV-0012
Water temperature is controlled manually.
Thermostatic mixer valves:
ATV-9004B
ATV-9004C
Water temperature is regulated automatically.
Frequently asked question:

Question:
What's difference between 'ATV-9004B' and 'ATV-9004C'?

Answer:
They're litterally both the same thing, except for only one difference.
ATV-9004B has a 'wall-mounting' brackets attached to it, while ATV-9004C has a 'female' connection end, which can be connected directly to a control box 'inlet' as shown below.
This thermostat can be connected directly to the control box using its 1/2" female outlet connector. This method is usually the quickest way to setup installation.

---

This thermostat has a 'wall-mounting' bracket that can be mounted on the wall or at a different location linked to the control box 'inlet' via a connecting pipe or a flexible hose (not supplied)

TIP:
You can run three (3) sensor taps (maximum) with one thermostatic. Water pressure of both hot and cold supplies must be at least 3 bar.

---

This is a manual blending valve only, adjustable by hand. There's no thermostatic mixing element inside. Any desired temperature can only be achieved 'manually' by turning the knob clockwise or anti-clockwise by hand.